Blog - Foot Doctor, Metropolis IL and Eldorado IL
Monday, 17 February 2020 00:00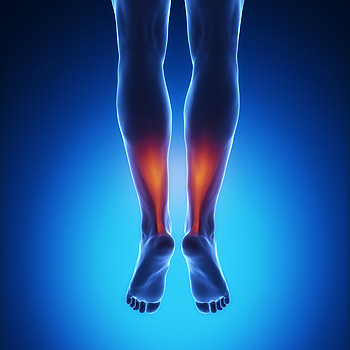 There are noticeable symptoms that exist with an Achilles tendon injury. These can include pain near your heel, soreness after arising in the morning, and difficulty flexing or pointing the foot. Additionally, there may be a "popping" sound that happens at the time of the injury. The Achilles tendon connects the calf muscles to the heel, and can be significantly uncomfortable if an injury occurs. Consistent stress to the tendon may come from wearing shoes that do not fit correctly, participating in a new sporting activity, or exercising on uneven surfaces. Moderate relief may be found when the affected foot is elevated, as this may help to alleviate a portion of the swelling. Some patients find it can be beneficial to wear orthotics to help relieve discomfort as the healing process occurs. If you have endured an injury to your Achilles tendon, it is strongly advised that you consult with a podiatrist.
Achilles tendon injuries need immediate attention to avoid future complications. If you have any concerns, contact Dr. Dean D. Hinners of Illinois. Our doctor can provide the care you need to keep you pain-free and on your feet.
What Is the Achilles Tendon?
The Achilles tendon is a tendon that connects the lower leg muscles and calf to the heel of the foot. It is the strongest tendon in the human body and is essential for making movement possible. Because this tendon is such an integral part of the body, any injuries to it can create immense difficulties and should immediately be presented to a doctor.
What Are the Symptoms of an Achilles Tendon Injury?
There are various types of injuries that can affect the Achilles tendon. The two most common injuries are Achilles tendinitis and ruptures of the tendon.
Achilles Tendinitis Symptoms
Inflammation
Dull to severe pain
Increased blood flow to the tendon
Thickening of the tendon
Rupture Symptoms
Extreme pain and swelling in the foot
Total immobility
Treatment and Prevention
Achilles tendon injuries are diagnosed by a thorough physical evaluation, which can include an MRI. Treatment involves rest, physical therapy, and in some cases, surgery. However, various preventative measures can be taken to avoid these injuries, such as:
Thorough stretching of the tendon before and after exercise
Strengthening exercises like calf raises, squats, leg curls, leg extensions, leg raises, lunges, and leg presses
If you have any questions please feel free to contact one of our offices located in Metropolis and Eldorado, IL. We offer the newest diagnostic tools and technology to treat your foot and ankle needs.
Read more about Achilles Tendon Injuries
Monday, 10 February 2020 00:00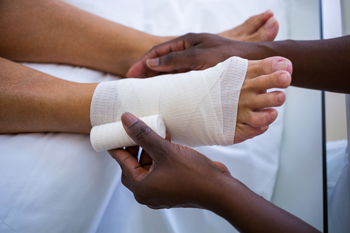 Many diabetic patients are aware of the importance of promptly treating existing foot wounds. There may be serious complications if foot wounds are not treated, which may cause pain and discomfort. Some of the wounds on the feet that can be dangerous to the health of a diabetic patient can include cuts, blisters, or severely dry skin that may result in cracked heels. There are noticeable signs an infection may have developed. These can consist of extreme pain, swelling, and pus may appear surrounding the affected area. Additionally, some patients may experience a high temperature, swollen glands, or a general feeling of being unwell. If you have wounds on your feet, it is strongly advised that you are under the care of a podiatrist who can treat existing wounds.
Wound care is an important part in dealing with diabetes. If you have diabetes and a foot wound or would like more information about wound care for diabetics, consult with Dr. Dean D. Hinners from Illinois. Our doctor will assess your condition and provide you with quality foot and ankle treatment.
What Is Wound Care?
Wound care is the practice of taking proper care of a wound. This can range from the smallest to the largest of wounds. While everyone can benefit from proper wound care, it is much more important for diabetics. Diabetics often suffer from poor blood circulation which causes wounds to heal much slower than they would in a non-diabetic.
What Is the Importance of Wound Care?
While it may not seem apparent with small ulcers on the foot, for diabetics, any size ulcer can become infected. Diabetics often also suffer from neuropathy, or nerve loss. This means they might not even feel when they have an ulcer on their foot. If the wound becomes severely infected, amputation may be necessary. Therefore, it is of the upmost importance to properly care for any and all foot wounds.
How to Care for Wounds
The best way to care for foot wounds is to prevent them. For diabetics, this means daily inspections of the feet for any signs of abnormalities or ulcers. It is also recommended to see a podiatrist several times a year for a foot inspection. If you do have an ulcer, run the wound under water to clear dirt from the wound; then apply antibiotic ointment to the wound and cover with a bandage. Bandages should be changed daily and keeping pressure off the wound is smart. It is advised to see a podiatrist, who can keep an eye on it.
If you have any questions, please feel free to contact one of our offices located in Metropolis and Eldorado, IL. We offer the newest diagnostic and treatment technologies for all your foot care needs.
Read more about Wound Care
More...