Blog
Monday, 06 August 2018 00:00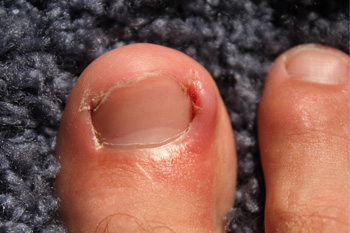 A condition that is referred to as ingrown toenails commonly develops as a result of the toenails being trimmed incorrectly. This occurs when the corners of the nail grow into the skin, often producing pain and discomfort. There are several symptoms that may lead to the conclusion that an ingrown toenail has begun to form including redness and swelling around the affected area or a liquid discharge that comes from the nail. If the shoes that are worn fit poorly, this condition may begin to develop in addition to specific repeated activity, in which the toe consistently kicks a ball. The patient may find moderate relief by soaking the toe in warm salt water frequently throughout the day, in addition to inserting a small piece of dry cotton under the affected area. It's strongly advised to consult with a podiatrist for correct treatment remedies that are right for you.
Ingrown toenails may initially present themselves as a minor discomfort, but they may progress into an infection in the skin without proper treatment. For more information about ingrown toenails, contact Dr. Dean D. Hinners of Illinois. Our doctor can provide the care you need to keep you pain-free and on your feet.
Ingrown Toenails
Ingrown toenails are caused when the corner or side of a toenail grows into the soft flesh surrounding it. They often result in redness, swelling, pain, and in some cases, infection. This condition typically affects the big toe and may recur if it is not treated properly.
Causes
Improper toenail trimming
Genetics
Improper shoe fitting
Injury from pedicures or nail picking
Abnormal gait
Poor hygiene
You are more likely to develop an ingrown toenail if you are obese, have diabetes, arthritis, or have any fungal infection in your nails. Additionally, people who have foot or toe deformities are at a higher risk of developing an ingrown toenail.
Symptoms
Some symptoms of ingrown toenails are redness, swelling, and pain. In rare cases, there may be a yellowish drainage coming from the nail.
Treatment
Ignoring an ingrown toenail can have serious complications. Infections of the nail border can progress to a deeper soft-tissue infection, which can then turn into a bone infection. You should always speak with your podiatrist if you suspect you have an ingrown toenail, especially if you have diabetes or poor circulation.
If you have any questions, please feel free to contact one of our offices located in Metropolis and Eldorado, IL. We offer the newest diagnostic and treatment technologies for all your foot care needs.
Read more about Ingrown Toenails
Monday, 30 July 2018 00:00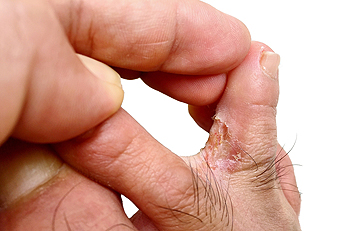 If you have ever experienced a corn on the top of the toes, you most likely are aware of the pain that is associated with it. Corns are generally the result of increased pressure and rubbing, and typically originates from shoes that do not fit correctly. It appears to be a small area, and the skin will be hardened and thick. There are known to be two types of corns and are referred to as hard and soft corns. The latter generally develops in between the toes and are often soft, because of the excess moisture and sweat that is present. Hard corns come from wearing shoes that are too tight and may often cause the toes to endure unwanted pressure, resulting in pain and discomfort. There are different types of treatments that may be used to eliminate corns, and it's advised to speak with a podiatrist for possible relief options that are correct for you.
Corns can make walking very painful and should be treated immediately. If you have questions regarding your feet and ankles, contact Dr. Dean D. Hinners of Illinois. Our doctor will treat your foot and ankle needs.
Corns: What are they? And how do you get rid of them?
Corns are thickened areas on the skin that can become painful. They are caused by excessive pressure and friction on the skin. Corns press into the deeper layers of the skin and are usually round in shape.
Ways to Prevent Corns
There are many ways to get rid of painful corns such as:
Wearing properly fitting shoes that have been measured by a professional
Wearing shoes that are not sharply pointed or have high heels
Wearing only shoes that offer support
Treating Corns
Although most corns slowly disappear when the friction or pressure stops, this isn't always the case. Consult with your podiatrist to determine the best treatment option for your case of corns.
If you have any questions please feel free to contact one of our offices located in Metropolis and Eldorado, IL. We offer the newest diagnostic and treatment technologies for all your foot and ankle needs.
Read more about Understanding Corns and Calluses
More...