Blog
Monday, 26 November 2018 00:00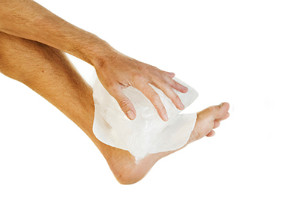 There are several injuries that may be experienced, which can precede uncomfortable ankle pain. These may include falling or tripping in which a fracture can occur, or a medical condition such as ankle arthritis. Throbbing, aching, or feeling a burning sensation may be a few of the noticeable symptoms that many people have, and it may progress gradually or be felt immediately. If you have stepped off a curb unexpectedly, tripped while participating in a sporting activity, or changed direction suddenly while running, you may have endured a form of ankle pain. It's suggested to speak with a podiatrist as quickly as possible, so a correct diagnosis can be performed and treatment can begin.
Ankle pain can be caused by a number of problems and may be potentially serious. If you have ankle pain, consult with Dr. Dean D. Hinners from Illinois. Our doctor will assess your condition and provide you with quality foot and ankle treatment.
Ankle pain is any condition that causes pain in the ankle. Due to the fact that the ankle consists of tendons, muscles, bones, and ligaments, ankle pain can come from a number of different conditions.
Causes
The most common causes of ankle pain include:
Types of arthritis (rheumatoid, osteoarthritis, and gout)
Ankle sprains
Broken ankles
Achilles tendinitis
Achilles tendon rupture
Stress fractures
Bursitis
Tarsal tunnel syndrome
Plantar fasciitis
Symptoms
Symptoms of ankle injury vary based upon the condition. Pain may include general pain and discomfort, swelling, aching, redness, bruising, burning or stabbing sensations, and/or loss of sensation.
Diagnosis
Due to the wide variety of potential causes of ankle pain, podiatrists will utilize a number of different methods to properly diagnose ankle pain. This can include asking for personal and family medical histories and of any recent injuries. Further diagnosis may include sensation tests, a physical examination, and potentially x-rays or other imaging tests.
Treatment
Just as the range of causes varies widely, so do treatments. Some more common treatments are rest, ice packs, keeping pressure off the foot, orthotics and braces, medication for inflammation and pain, and surgery.
If you have any questions, please feel free to contact one of our offices located in Metropolis and Eldorado, IL. We offer the newest diagnostic and treatment technologies for all your foot care needs.
Read more about Ankle Pain
Monday, 19 November 2018 00:00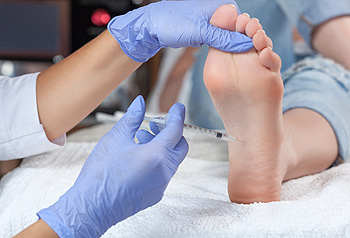 A possibly effective treatment method known as PRP injections may be able to help chronic conditions that may include Achilles tendonitis. This may be a result of increased growth factors that are typically crucial to the healing process. They can be administered in one visit, or over a period of time, and this may depend on the severity of the condition. The procedure is performed after obtaining the patient's blood, extracting the platelets, then injecting this portion of the blood into the affected area. There may be possible side effects from using this type of treatment, and these may include experiencing an increase of pain and inflammation at the site of the injection. If you feel you would like to use PRP injections as a possible treatment option, it's advised to consult with a podiatrist to determine if this is correct for you.
If you are suffering from a foot condition, contact Dr. Dean D. Hinners of Illinois. Our doctor will assist you with all of your podiatric concerns.
What Is PRP?
Platelet Rich Plasma, or PRP, is blood taken from a patient and spun in a centrifuge, concentrating the amount of platelets. The plasma is then re-injected into the site of injury or damage, assisting the body in repairing damage to muscles, tendons, ligaments, and tissue. PRP helps the body speed up its healing process.
Uses of PRP
Injuries affecting the foot sometimes don't heal properly because of poor blood circulation. The healing time slows down, and recovery time is affected by poor blood supply. PRP injections will speed up recovery and resolve this issue.
Treatment
PRP is the first regenerative treatment for damaged muscles, tendons, and ligaments. No surgery needed. It is only applied with an insertion of a needle.
Ultrasound – An ultrasound is needed for proper placement of the platelets.
Injection – When the first injection is received, the patient will return to the doctor in about 2 to 3 weeks and monitor the recovery process.
Recovery time – Some people respond to treatments differently. Therefore, depending on your condition, the doctor will make any remaining decisions on how many more injections are needed, or if any additional ones are even required.
Benefits
One may be able to avoid major surgery, and recovery time will be cut down. PRP injections also avoid creating scar tissue and damage to the area. Risks are also very low using PRP as a treatment. There is no risk of rejection, contracting a disease from using another person's blood, or infection.
If you have any questions please feel free to contact one of our offices located in Metropolis and Eldorado, IL. We offer the newest diagnostic and treatment technologies for all your foot and ankle needs.
Read more about PRP Injections in the Feet
More...