Blog
Monday, 30 April 2018 00:00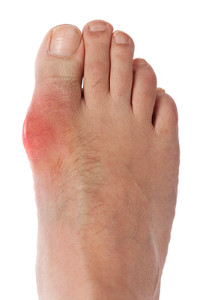 The general cause of a condition referred to as gout is an excess of uric acid that accumulates in the body. The big toe is typically affected, and obvious symptoms may include intense pain, swelling, and redness in the surrounding areas. It will often appear as an inflamed protrusion on the side of the big toe, and may affect the ability to walk. Research has shown that it may be a controllable condition and may occur because of the foods that are ingested. There may be several items that may fall into this category, including the consumption of red meat, an excessive salty foods, and any type of shellfish. Drinking excess alcohol may also lead to the development of gout, in addition to a family history of high blood pressure. Occasionally, there may be specific medical conditions in which the body has difficulty eliminating uric acid, such as kidney or thyroid ailments. The treatment for gout can vary, so it's advised to consult with a podiatrist for a proper diagnosis.
Gout is a painful condition that can be treated. If you are seeking treatment, contact Dr. Dean D. Hinners from Illinois. Our doctor will treat your foot and ankle needs.
What is Gout?
Gout is a form of arthritis that is characterized by sudden, severe attacks of pain, redness, and tenderness in the joints. The condition usually affects the joint at the base of the big toe. A gout attack can occur at any random time, such as the middle of the night while you are asleep.
Symptoms
Intense Joint Pain - Usually around the large joint of your big toe, and it most severe within the first four to twelve hours
Lingering Discomfort - Joint discomfort may last from a few days to a few weeks
Inflammation and Redness -Affected joints may become swollen, tender, warm and red
Limited Range of Motion - May experience a decrease in joint mobility
Risk Factors
Genetics - If family members have gout, you're more likely to have it
Medications - Diuretic medications can raise uric acid levels
Gender/Age - Gout is more common in men until the age of 60. It is believed that estrogen protects women until that point
Diet - Eating red meat and shellfish increases your risk
Alcohol - Having more than two alcoholic drinks per day increases your risk
Obesity - Obese people are at a higher risk for gout
Prior to visiting your podiatrist to receive treatment for gout, there are a few things you should do beforehand. If you have gout you should write down your symptoms--including when they started and how often you experience them, important medical information you may have, and any questions you may have. Writing down these three things will help your podiatrist in assessing your specific situation so that he or she may provide the best route of treatment for you.
If you have any questions, please feel free to contact one of our offices located in Metropolis and Eldorado, IL. We offer the newest diagnostic and treatment technologies for all your foot care needs.
Read more about Everything You Need to Know About Gout
Monday, 23 April 2018 00:00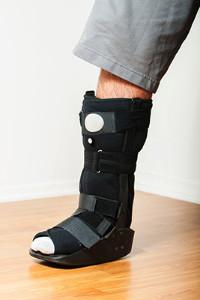 Research has shown the foot consists of 26 bones. If you have endured a fall resulting in severe pain in your foot, one of these bones may have been fractured, and this is often referred to as a broken foot. General symptoms of a sprain and a fracture typically include swelling and pain, so it's advised to be able to differentiate between the two. This can be accomplished by comparing both feet and looking for breaks in the skin, which may result from a broken bone. Additional indications of a broken foot may be a feeling of dizziness, extreme discomfort, and pain while attempting to walk, or feeling a bone in the foot snap as the injury occurs. Temporary relief can be found in resting the foot by limiting attempts to walk, in addition to elevating the leg as soon as possible. A proper diagnosis will typically consist of performing an X-ray, which can determine the severity of the fracture. Please consult with a podiatrist for proper treatment options, which may include a walking boot or cast.
A broken foot requires immediate medical attention and treatment. If you need your feet checked, contact Dr. Dean D. Hinners from Illinois. Our doctor can provide the care you need to keep you pain-free and on your feet.
Broken Foot Causes, Symptoms, and Treatment
A broken foot is caused by one of the bones in the foot typically breaking when bended, crushed, or stretched beyond its natural capabilities. Usually the location of the fracture indicates how the break occurred, whether it was through an object, fall, or any other type of injury.
Common Symptoms of Broken Feet:
Bruising
Pain
Redness
Swelling
Blue in color
Numbness
Cold
Misshapen
Cuts
Deformities
Those that suspect they have a broken foot shoot seek urgent medical attention where a medical professional could diagnose the severity.
Treatment for broken bones varies depending on the cause, severity and location. Some will require the use of splints, casts or crutches while others could even involve surgery to repair the broken bones. Personal care includes the use of ice and keeping the foot stabilized and elevated.
If you have any questions please feel free to contact one of our offices located in Metropolis and Eldorado, IL. We offer the newest diagnostic and treatment technologies for all your foot and ankle needs.
Read more about Causes, Symptoms, and Treatment for a Broken Foot
More...