Blog - Foot Doctor, Metropolis IL and Eldorado IL
Monday, 10 September 2018 00:00
The type of footwear referred to as flip flops are popular summer shoes that are made of thin soles and typically are not meant to be worn for extended periods of time. Despite the fact that many people indulge in wearing these types of shoes, there may be moderate discomfort and symptoms that can be associated with them. These may include an achy feeling that may be present in the foot and ankle in addition to the formation of calluses and blisters. Other foot conditions that may develop as a result of wearing flip flops may be the development of bunions and hammertoes. The risk of injury may be increased from choosing to wear this type of shoe and this may occur as a result of a lack of stability. If you have questions pertaining to flip flops and would like additional information about the pros and cons for wearing this type of shoe, please schedule an appointment with a podiatrist who will be able to answer any questions you may have.
Flip-flops can cause a lot of problems for your feet. If you have any concerns about your feet or ankles, contact Dr. Dean D. Hinners from Illinois. Our doctor will assist you with all of your foot and ankle needs.
Flip-Flops and Feet
Flip-flops have managed to become a summer essential for a lot of people. While the shoes may be stylish and easy to slip on and off, they can be dangerous to those who wear them too often. These shoes might protect you from fungal infections such as athlete's foot, but they can also give you foot pain and sprained ankles if you trip while wearing them.
When Are They Okay to Wear?
Flip-flops should only be worn for very short periods of time. They can help protect your feet in places that are crawling with fungi, such as gym locker rooms. Athlete's foot and plantar warts are two common fungi that flip-flops may help protect your feet against.
Why Are They Bad for My Feet?
These shoes do not offer any arch support, so they are not ideal for everyday use. They also do not provide shock absorption or heel cushioning which can be problematic for your feet. Additionally, you may suffer from glass cuts, puncture wounds, and stubbed toes since they offer little protection for your feet.
More Reasons Why They Are Bad for Your Feet
They Slow You Down
May Cause Blisters and Calluses
Expose Your Feet to Bacteria
If you have any questions, please feel free to contact one of our offices located in Metropolis and Eldorado, IL. We offer the newest diagnostic and treatment technologies for all your foot care needs.
Read more about Flipping Out About Flip Flops
Tuesday, 04 September 2018 00:00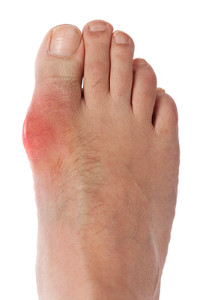 When specific foods are ingested on a frequent basis, a flare-up of a condition known as gout may occur. There are several symptoms that accompany this ailment, including severe pain and discomfort surrounding the big toe, redness, and extreme tenderness when the area is touched. Certain foods have elevated levels of purines, which is known to raise uric acid levels in the blood. This causes crystals to form, and may lodge in the joints of the feet, most commonly the big toe. Research has shown that certain foods should be limited or avoided, which are high in purine levels. These may include alcohol, shellfish, and meat. For patients who experience gout, it may be advised to drink plenty of fresh water frequently, increase the amount of fruits and vegetables that are eaten on a daily basis, and to lose weight slowly if obesity is a factor. Please schedule a consultation with a podiatrist if you are afflicted with gout for immediate treatment options.
Gout is a foot condition that requires certain treatment and care. If you are seeking treatment, contact Dr. Dean D. Hinners from Illinois. Our doctor will treat your foot and ankle needs.
What Is Gout?
Gout is a type of arthritis caused by a buildup of uric acid in the bloodstream. It often develops in the foot, especially the big toe area, although it can manifest in other parts of the body as well. Gout can make walking and standing very painful and is especially common in diabetics and the obese.
People typically get gout because of a poor diet. Genetic predisposition is also a factor. The children of parents who have had gout frequently have a chance of developing it themselves.
Gout can easily be identified by redness and inflammation of the big toe and the surrounding areas of the foot. Other symptoms include extreme fatigue, joint pain, and running high fevers. Sometimes corticosteroid drugs can be prescribed to treat gout, but the best way to combat this disease is to get more exercise and eat a better diet.
If you have any questions please feel free to contact one of our offices located in Metropolis and Eldorado, IL. We offer the newest diagnostic and treatment technologies for all your foot and ankle needs.
Read more about Gout
More...