Blog - Foot Doctor, Metropolis IL and Eldorado IL
Monday, 04 June 2018 00:00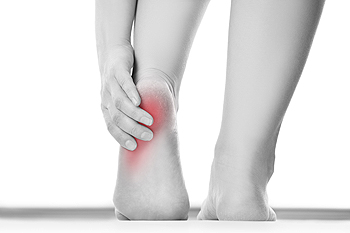 Excess calcium that develops on the heel of the foot may be referred to as a heel spur. It is often noticed by feeling an intense pain in the heel while standing, especially in the morning. Additional symptoms may include swelling, tenderness and an achiness that is felt throughout the day. When an X-ray is performed, a small protrusion is generally visible on the heel of the foot. This condition will typically develop gradually, and is often the result of engaging in activities that wear down the tissues in the arches and heels. Wearing poorly fitting shoes that lack adequate cushioning may be a common reason for heel spurs to form, in addition to being overweight which may contribute to the amount of pressure the heels must endure. Research has shown the importance of resting the feet so the pain may subside. There are several treatment options for heel spurs and it's suggested to consult with a podiatrist for additional information.
Heel spurs can be incredibly painful and sometimes may make you unable to participate in physical activities. To get medical care for your heel spurs, contact Dr. Dean D. Hinners from Illinois. Our doctor will do everything possible to treat your condition.
Heels Spurs
Heel spurs are formed by calcium deposits on the back of the foot where the heel is. This can also be caused by small fragments of bone breaking off one section of the foot, attaching onto the back of the foot. Heel spurs can also be bone growth on the back of the foot and may grow in the direction of the arch of the foot.
Older individuals usually suffer from heel spurs and pain sometimes intensifies with age. One of the main condition's spurs are related to is plantar fasciitis.
Pain
The pain associated with spurs is often because of weight placed on the feet. When someone is walking, their entire weight is concentrated on the feet. Bone spurs then have the tendency to affect other bones and tissues around the foot. As the pain continues, the feet will become tender and sensitive over time.
Treatments
There are many ways to treat heel spurs. If one is suffering from heel spurs in conjunction with pain, there are several methods for healing. Medication, surgery, and herbal care are some options.
If you have any questions feel free to contact one of our offices located in Metropolis and Eldorado, IL. We offer the latest in diagnostic and treatment technology to meet your needs.
Read more about Heel Spurs
Tuesday, 29 May 2018 00:00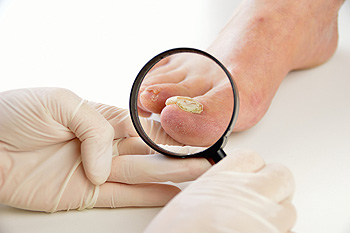 If you notice that your toenails are starting to thicken or change color, there is a chance you may have onychomycosis. Onychomycosis is the medical term for the condition commonly known as toenail fungus. If you are in the early stages of developing toenail fungus, you may notice a white or yellow spot under the tip of your toenail. Afterward, you may notice that the fungus will travel deeper and start to discolor, thicken, or distort the edge of the nail. Nevertheless, there are items you likely have in your kitchen cabinet that can aid in fighting toenail fungus. Apple cider vinegar is a popular remedy for toenail fungus due to its antifungal properties. If you want to treat your fungus using ACV, you can soak your feet in a mixture of warm water and the vinegar for about 15 minutes, twice a day. When purchasing the ACV, you should make sure it is raw, unpasteurized, and organic. For further assistance with treating toenail fungus, please consider scheduling a consultation with a podiatrist.
If left untreated, toenail fungus may spread to other toenails, skin, or even fingernails. If you suspect you have toenail fungus it is important to seek treatment right away. For more information about treatment, contact Dr. Dean D. Hinners of Illinois. Our doctor can provide the care you need to keep you pain-free and on your feet.
Symptoms
Warped or oddly shaped nails
Yellowish nails
Loose/separated nail
Buildup of bits and pieces of nail fragments under the nail
Brittle, broken, thickened nail
Treatment
If self-care strategies and over-the-counter medications does not help your fungus, your podiatrist may give you a prescription drug instead. Even if you find relief from your toenail fungus symptoms, you may experience a repeat infection in the future.
Prevention
In order to prevent getting toenail fungus in the future, you should always make sure to wash your feet with soap and water. After washing, it is important to dry your feet thoroughly especially in between the toes. When trimming your toenails, be sure to trim straight across instead of in a rounded shape. It is crucial not to cover up discolored nails with nail polish because that will prevent your nail from being able to "breathe".
In some cases, surgical procedure may be needed to remove the toenail fungus. Consult with your podiatrist about the best treatment options for your case of toenail fungus.
If you have any questions, please feel free to contact one of our offices located in Metropolis and Eldorado, IL. We offer the newest diagnostic and treatment technologies for all your foot care needs.
Read more about Toenail Fungus
More...