Blog
Monday, 07 October 2019 00:00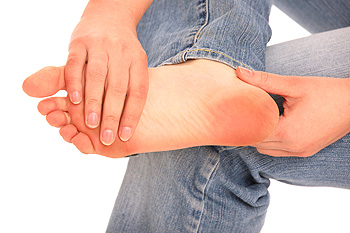 An injury that has occurred to the growth plate in the heel may be referred to as Sever's disease. This type of injury typically affects teenagers who frequently practice sporting activities that include running and jumping. The symptoms that are generally associated with this condition can consist of heel pain, and it may be difficult to walk. It is beneficial for the child to cease participating in the activity that causes this condition to develop as the healing process occurs. Benefits may come from performing specific stretching techniques that may help the heel and the overall health of the foot. If your child tells you he or she has heel pain, it may be Sever's disease, and it is suggested that you speak to a podiatrist so the proper treatment can begin.
Sever's disease often occurs in children and teens. If your child is experiencing foot or ankle pain, see Dr. Dean D. Hinners at Illinois. Our doctor can treat your child's foot and ankle needs.
Sever's Disease
Sever's disease is also known as calcaneal apophysitis, which is a medical condition that causes heel pain I none or both feet. The disease is known to affect children between the ages of 8 and 14.
Sever's disease occurs when part of the child's heel known as the growth plate (calcaneal epiphysis) is attached to the Achilles tendon. This area can suffer injury when the muscles and tendons of the growing foot do not keep pace with bone growth. Therefore, the constant pain which one experiences at the back of the heel will make the child unable to put any weight on the heel. The child is then forced to walk on their toes.
Symptoms
Acute pain – Pain associated with Sever's disease is usually felt in the heel when the child engages in physical activity such as walking, jumping and or running.
Highly active – Children who are very active are among the most susceptible in experiencing Sever's disease, because of the stress and tension placed on their feet.
If you have any questions, please feel free to contact one of our offices located in Metropolis and Eldorado, IL. We offer the newest diagnostic and treatment technologies for all your foot and ankle injuries.
Read more about Sever's Disease
Monday, 30 September 2019 00:00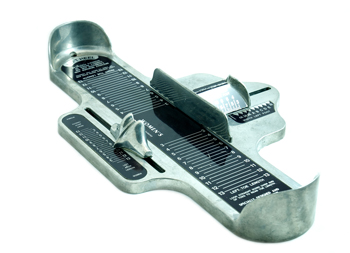 When shoes fit properly, the feet will generally feel good. This being stated, research has indicated that many people wear shoes that are the wrong size, and can cause foot conditions to develop which may include bunions and hammertoes. Many people choose to purchase shoes that are slightly tight, and they often think the shoes will gradually stretch to accommodate their foot. It is important to properly measure the foot which can help to determine the correct shoe size. This can be accomplished by tracing the foot on a piece of paper, and it is helpful to wear the socks that are typically worn with the chosen shoes. At this point, the width and length of the foot can be measured. An alternative would be to use a Brannock device, which is found it many shoe stores. A podiatrist is able to provide you with additional information about how to buy shoes that fit correctly.
It is important to find shoes that fit you properly in order to avoid a variety of different foot problems. For more information about treatment, contact Dr. Dean D. Hinners from Illinois. Our doctor will treat your foot and ankle needs.
Proper Shoe Fitting
Shoes have many different functions. They cushion our body weight, protect our feet, and allow us to safely play sports. You should always make sure that the shoes you wear fit you properly in order to avoid injuries and deformities such as: bunions, corns, calluses, hammertoes, plantar fasciitis, stress fractures, and more. It is important to note that although a certain pair of shoes might be a great fit for someone else, that doesn't mean they will be a great fit for you. This is why you should always try on shoes before buying them to make sure they are worth the investment. Typically, shoes need to be replaced ever six months to one year of regular use.
Tips for Proper Shoe Fitting
Select a shoe that is shaped like your foot
Don't buy shoes that fit too tight, expecting them to stretch to fit
Make sure there is enough space (3/8" to ½") for your longest toe at the end of each shoe when you are standing up
Walk in the shoes to make sure they fit and feel right
Don't select shoes by the size marked inside the shoe, but by how the shoe fits your foot
The shoes you buy should always feel as good as they look. Shoes that fit properly will last longer, feel better, and improve your way of life each day.
If you have any questions, please feel free to contact one of our offices located in Metropolis and Eldorado, IL. We offer the newest diagnostic and treatment technologies for all your foot care needs.
Read more about How to Get a Proper Shoe Fit
More...