Blog
Monday, 11 June 2018 00:00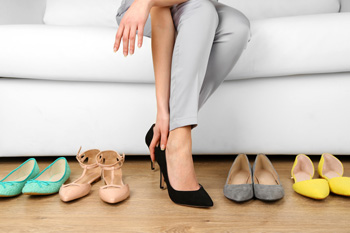 Recent studies may have found that wearing certain shoes that have a heel may benefit your feet and posture than by wearing flat shoes which may not have an arch. Choosing shoes that have a wider heel may aid in maintaining proper balance and wearing shoes with a shorter heel may help in keeping excess pressure off the toes. For those people who enjoy wearing shoes with an extremely high heel, it's advised to choose shoes that have a chunky heel as opposed to very thin heels. This can help in preventing possible damage to the foot, including the formation of hammer toes or blisters. It's suggested to wear high heels for short durations at a time which may allow the feet to become accustomed to the desired heel size. If you have questions about how to choose a proper high heel that may benefit the feet, please speak with a podiatrist.
High heels have a history of causing foot and ankle problems. If you have any concerns about your feet or ankles, contact Dr. Dean D. Hinners from Illinois. Our doctor can provide the care you need to keep you pain-free and on your feet.
Effects of High Heels on the Feet
High heels are popular shoes among women because of their many styles and societal appeal. Despite this, high heels can still cause many health problems if worn too frequently.
Which Parts of My Body Will Be Affected by High Heels?
Ankle Joints
Achilles Tendon – May shorten and stiffen with prolonged wear
Balls of the Feet
Knees – Heels cause the knees to bend constantly, creating stress on them
Back – They decrease the spine's ability to absorb shock, which may lead to back pain. The vertebrae of the lower back may compress.
What Kinds of Foot Problems Can Develop from Wearing High Heels?
Corns
Calluses
Hammertoe
Bunions
Morton's Neuroma
Plantar Fasciitis
How Can I Still Wear High Heels and Maintain Foot Health?
If you want to wear high heeled shoes, make sure that you are not wearing them every day, as this will help prevent long term physical problems. Try wearing thicker heels as opposed to stilettos to distribute weight more evenly across the feet. Always make sure you are wearing the proper shoes for the right occasion, such as sneakers for exercising. If you walk to work, try carrying your heels with you and changing into them once you arrive at work. Adding inserts to your heels can help cushion your feet and absorb shock. Full foot inserts or metatarsal pads are available.
If you have any questions please feel free to contact one of our offices located in Metropolis and Eldorado, IL. We offer the newest diagnostic and treatment technologies for all your foot and ankle needs.
Read more about Effect of High Heels on the Feet
Monday, 04 June 2018 00:00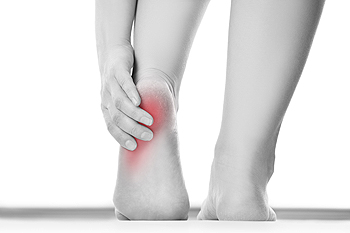 Excess calcium that develops on the heel of the foot may be referred to as a heel spur. It is often noticed by feeling an intense pain in the heel while standing, especially in the morning. Additional symptoms may include swelling, tenderness and an achiness that is felt throughout the day. When an X-ray is performed, a small protrusion is generally visible on the heel of the foot. This condition will typically develop gradually, and is often the result of engaging in activities that wear down the tissues in the arches and heels. Wearing poorly fitting shoes that lack adequate cushioning may be a common reason for heel spurs to form, in addition to being overweight which may contribute to the amount of pressure the heels must endure. Research has shown the importance of resting the feet so the pain may subside. There are several treatment options for heel spurs and it's suggested to consult with a podiatrist for additional information.
Heel spurs can be incredibly painful and sometimes may make you unable to participate in physical activities. To get medical care for your heel spurs, contact Dr. Dean D. Hinners from Illinois. Our doctor will do everything possible to treat your condition.
Heels Spurs
Heel spurs are formed by calcium deposits on the back of the foot where the heel is. This can also be caused by small fragments of bone breaking off one section of the foot, attaching onto the back of the foot. Heel spurs can also be bone growth on the back of the foot and may grow in the direction of the arch of the foot.
Older individuals usually suffer from heel spurs and pain sometimes intensifies with age. One of the main condition's spurs are related to is plantar fasciitis.
Pain
The pain associated with spurs is often because of weight placed on the feet. When someone is walking, their entire weight is concentrated on the feet. Bone spurs then have the tendency to affect other bones and tissues around the foot. As the pain continues, the feet will become tender and sensitive over time.
Treatments
There are many ways to treat heel spurs. If one is suffering from heel spurs in conjunction with pain, there are several methods for healing. Medication, surgery, and herbal care are some options.
If you have any questions feel free to contact one of our offices located in Metropolis and Eldorado, IL. We offer the latest in diagnostic and treatment technology to meet your needs.
Read more about Heel Spurs
More...