Blog
Monday, 03 December 2018 00:00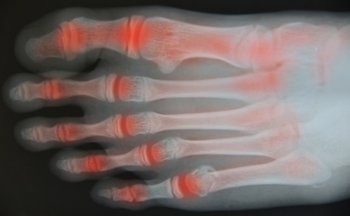 If you are experiencing pain and discomfort in your big toe, you may have a foot condition that is known as toe arthritis. It may be caused by wearing shoes that are too tight and may not have adequate room for the toes to move about in. One of the first signs that may be indicative of toe arthritis may be pain that is felt in the toes. Many people feel stiffness in the toes, and this may be a result of the diminished cartilage that is located between the joints, in addition to obvious redness and swelling of the toes and surrounding area. If you are afflicted with this condition, it may be difficult to perform daily activities that may include walking or standing for extended periods of time. If you are experiencing arthritis in your feet or toes, it is suggested to speak with a podiatrist who can advise you on correct treatment options.
Arthritis can be a difficult condition to live with. If you are seeking treatment, contact Dr. Dean D. Hinners from Illinois. Our doctor can provide the care you need to keep you pain-free and on your feet.
Arthritic Foot Care
Arthritis is a term that is commonly used to describe joint pain. The condition itself can occur to anyone of any age, race, or gender, and there are over 100 types of it. Nevertheless, arthritis is more commonly found in women compared to men, and it is also more prevalent in those who are overweight. The causes of arthritis vary depending on which type of arthritis you have. Osteoarthritis for example, is often caused by injury, while rheumatoid arthritis is caused by a misdirected immune system.
Symptoms
Swelling
Pain
Stiffness
Decreased Range of Motion
Arthritic symptoms range in severity, and they may come and go. Some symptoms stay the same for several years but could potentially get worse with time. Severe cases of arthritis can prevent its sufferers from performing daily activities and make walking difficult.
Risk Factors
Occupation – Occupations requiring repetitive knee movements have been linked to osteoarthritis
Obesity – Excess weight can contribute to osteoarthritis development
Infection – Microbial agents can infect the joints and trigger arthritis
Joint Injuries – Damage to joints may lead to osteoarthritis
Age – Risk increases with age
Gender –Most types are more common in women
Genetics – Arthritis can be hereditary
If you suspect your arthritis is affecting your feet, it is crucial that you see a podiatrist immediately. Your doctor will be able to address your specific case and help you decide which treatment method is best for you.
If you have any questions, please feel free to contact one of our offices located in Metropolis and Eldorado, IL. We offer the newest diagnostic and treatment technologies for all your foot care needs.
Read more about How to Care for Your Arthritic Foot
Monday, 26 November 2018 00:00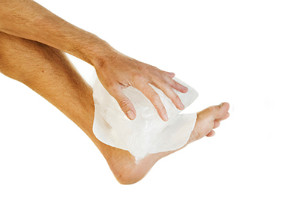 There are several injuries that may be experienced, which can precede uncomfortable ankle pain. These may include falling or tripping in which a fracture can occur, or a medical condition such as ankle arthritis. Throbbing, aching, or feeling a burning sensation may be a few of the noticeable symptoms that many people have, and it may progress gradually or be felt immediately. If you have stepped off a curb unexpectedly, tripped while participating in a sporting activity, or changed direction suddenly while running, you may have endured a form of ankle pain. It's suggested to speak with a podiatrist as quickly as possible, so a correct diagnosis can be performed and treatment can begin.
Ankle pain can be caused by a number of problems and may be potentially serious. If you have ankle pain, consult with Dr. Dean D. Hinners from Illinois. Our doctor will assess your condition and provide you with quality foot and ankle treatment.
Ankle pain is any condition that causes pain in the ankle. Due to the fact that the ankle consists of tendons, muscles, bones, and ligaments, ankle pain can come from a number of different conditions.
Causes
The most common causes of ankle pain include:
Types of arthritis (rheumatoid, osteoarthritis, and gout)
Ankle sprains
Broken ankles
Achilles tendinitis
Achilles tendon rupture
Stress fractures
Bursitis
Tarsal tunnel syndrome
Plantar fasciitis
Symptoms
Symptoms of ankle injury vary based upon the condition. Pain may include general pain and discomfort, swelling, aching, redness, bruising, burning or stabbing sensations, and/or loss of sensation.
Diagnosis
Due to the wide variety of potential causes of ankle pain, podiatrists will utilize a number of different methods to properly diagnose ankle pain. This can include asking for personal and family medical histories and of any recent injuries. Further diagnosis may include sensation tests, a physical examination, and potentially x-rays or other imaging tests.
Treatment
Just as the range of causes varies widely, so do treatments. Some more common treatments are rest, ice packs, keeping pressure off the foot, orthotics and braces, medication for inflammation and pain, and surgery.
If you have any questions, please feel free to contact one of our offices located in Metropolis and Eldorado, IL. We offer the newest diagnostic and treatment technologies for all your foot care needs.
Read more about Ankle Pain
More...